All you need to celebrate is right here in SW6
Christmas fairs, parties, concerts and even a panto - it's all happening right here in SW6.
We've put together a guide to all the festive goings on in Fulham, starting this weekend.

We even have a list of local suppliers of those essential Christmas goodies and services. So you can start your Christmas planning from the comfort of your own home. Click here to see what your local shops are up to.

And keep checking back, as we'll be updating this page with new events throughout December.
Fulham Palace is holding events throughout December including a Victorian Christmas, carols, workshops and a performance of Sleeping Beauty for the little ones. For all the details, click here.
December 1 saw the launch of the annual Odd Man Out Christmas competition in Fulham Road.
Running through till December 21, the contest requires participants to locate small household objects, that you wouldn't find normally, in participating competition shop windows, eg a tin of baked beans in a butchers or a pair of glasses in a flower shop.
The winner will receive a hamper of over 20 fantastic prizes donated by participating businesses.
Pick up a competition form from participating Fulham Road businesses or from the Durell Arms at 704 Fulham Road.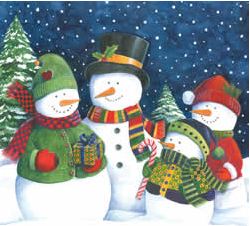 Still looking for Christmas cards? Packs of Christmas cards supporting The Friends of Chelsea and Westminster are available from the Friends office in the hospital main atrium.
There are three designs to choose from and the cards for £2.50 for ten.
On December 20 from 2pm to 3pm, Fulham Library is hosting a Christmas craft session for children. Tickets £1.00 available from Fulham Library, at 598 Fulham Road from 1st December onwards.
Fulham's churches are opening their doors over Christmas for traditional carol services. Here's where to join a festive singalong:
ChristmasEve - 6pm, Crib Mass for Children; 11.30pm, Community Carols; 12pm, Midnight Mass
Christmas Day - 8.30am, Holy Communion; 10am, Parish Mass
ChristmasEve - 3pm, Carols around the Crib; 11.30pm Holy Communion
Christmas Day - 10.30am, short informal Christmas service
Christmas Eve - 3.30pm Crib Service (pre-school); 5.30pm Crib Service (school age); 11.30 pm Midnight Mass
Christmas Day - 8am, Holy Communion; 10.30am, Family Service
Christmas Eve - 4pm, Children's Service; 11.30pm, Holy Communion
Christmas Day - 10.30am, Family Service

December 23 - 3pm, Christingle service for children
Christmas Eve - 3pm, carols around the tree; 11.30pm, Holy Communion with carols
Christmas Day - 10am, Holy Communion

Christmas Eve - 11.30pm, Midnight service
Christmas Day - 11.30am, Christmas Day Service
Christmas Eve - 12pm, Mass at Midnight
Christmas Day - 10am, Mass: Nativity of the Lord
Christmas Eve - 3pm, carols around the Christmas tree, suitable for under tens; 11.30pm Midnight Communion
Christmas Day - 10.30am, Family Christmas Day celebration
Happy cooking this Christmas from West London Kitchens, local suppliers of bespoke German family kitchens. If you want to cook your turkey in a new kitchen next year, please give us a ring and we'll visit to discuss your plans. We sell beautiful kitchens at friendly prices; they're designed bespoke to you and delivered ready built; and there are no flatpacks.

Please visit
www.westlondonkitchens.com
for more information or ring on 020 8741 1981.

Merry Christmas!
The Park Club



The Park Club has come up with a really unique idea for a present that is bound to go down well with whoever is the lucky recipient.

Their Membership in a Box scheme allows you to place under the Christmas tree a full month's membership at the private family health club as well as a host of other benefits including 5 personal training sessions, mini-facial or mini massage, luxurious bath robe and dermalogica products all beautifully presented in a gift box.

If you'd like to order this phone 020 8740 4599. Please have delivery details ready. For further information, and orders, please phone 020 8740 4599.
Keep checking this space in the weeks ahead for our guide to shopping, food and lots more festive fun in Fulham.
If you have an event or news you would like to share with local people in our guide, email to details to editor@fulhamsw6.com

December 3, 2012