David Morton says Clean Air Neighbourhood policy also led to decision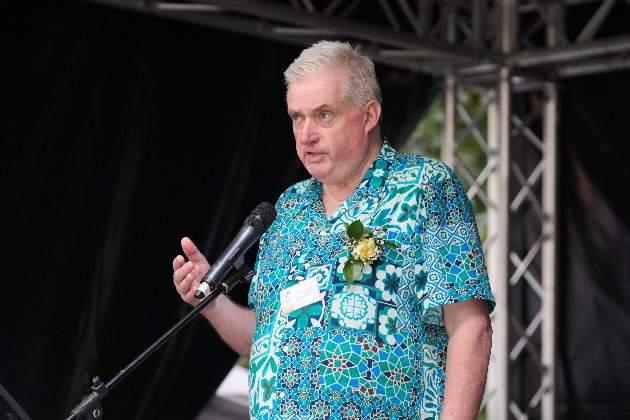 Cllr David Morton. Picture: Matt Grayson/Hammersmith & Fulham Council
July 28, 2023
A Hammersmith & Fulham Councillor has quit the Labour Party days after being suspended for allegedly sharing "anti-Semitic and racist" content online – an accusation he strongly denies. David Morton resigned his membership on Sunday, 23 July, with "immediate effect" claiming the party no longer reflected the views of his constituents in Hammersmith and Fulham and that there had been a "smear campaign" against him by Labour.
He said he quit because of the Labour-run council's policies on Clean Air Neighbourhoods. However Cllr Morton, who now represents Avonmore ward as an Independent, was handed an administrative suspension on Friday, 14 July, and had the Labour whip removed four days later, according to the councillor's resignation email seen by the BBC's Local Democracy Reporting Service (LDRS).
The West London politician is accused of breaching Labour rules prohibiting members from engaging in anti-Semitic, racist or discriminatory conduct. Cllr Morton confirmed Labour is investigating a complaint against him in relation to his conduct on social media between 2022 and 2023, however he has strongly denied the allegations and claimed Labour was running a smear campaign against him. He also claimed the party had been "poking around" his personal social media account, which he says had no affiliations with the party. Labour has declined to comment.
Cllr Morton told the LDRS, "I'm absolutely stunned by this. I do not hold any anti-Semitic [views] and I'm certainly not racist." He added, "I was shocked because of the allegations of anti-Semitism and racism. I am probably the last person to be accused of that. My father-in-law was Jewish and I was involved in the report on Kinder Transport."
In his email to Labour, the councillor said he "absolutely refutes" the allegations. He said, "I certainly, and absolutely refute any allegation of antisemitic or racist views. In addition, I have a serious issue with the way in which unsubstantiated accusations can be made which then lead to the immediate [suspension] of my role as a Labour councillor. What happened to due process and the presumption of innocence?"
Of the 700 tweets on his account he claimed, "Frankly, I can't see anything that is anti-Semitic, racist or misogynistic. There are a couple of dubious jokes but that's all." He also claimed the tweets were "fair comment" or statements of fact.
However, analysis of Cllr Morton's Twitter account shows multiple retweets from profiles appearing to share, racist, transphobic and homophobic messages, Covid conspiracy theories and attacks on other Labour Party members in the past few weeks.
Cllr Morton also appeared to have 'liked' a tweet questioning the number of Jews who died during the Holocaust, two days after he had been suspended by Labour for allegedly engaging in anti-Semitic content online. He admitted to the LDRS he had liked the tweet but claims he misunderstood it, and others from the same account, and has since blocked the account they came from. He said, "I didn't think that the tweets were antisemitic. They can be read either way and I can now see that I may have read them incorrectly."
Cllr Morton has shared several conspiracy theories about Covid-19 and climate change, and admitted to the LDRS that he holds those views himself. Cllr Morton shared posts that claimed the climate emergency was a "hoax" and retweeted conspiracy theories falsely claiming multinational bodies like the World Economic Forum (WEF) and the World Health Organisation (WHO) were trying to impose a "one-world government" through the UN's 2030 Agenda goals to end world hunger and achieve gender parity. He told the LDRS: "Personally, I do believe that the WEF, WHO and Agenda 30 represent a threat to civilisation and I also believe that the climate crisis is a hoax."
Cllr Morton has also shared tweets attacking fellow Labour Party politicians, notably Harriet Harman and Sadiq Khan, and he admitted he does not support the latter's policies. And he admitted to the LDRS he corrected the spelling of Dambusters Wing Commander Guy Gibson's dog online, which is the same word used as a racist term against Black people. Cllr Morton claims he had his account suspended by Twitter as a result of this and that it was reinstated after the tweet was deleted. But he maintains that he was simply correcting an inaccuracy rather than engaging in sharing a racist term.
Cllr Morton said he was unaware the tweets from his personal account were visible to the public and said they may have been a "mistake". He said, "Naively, I had thought that tweets on this site would remain private as there is no political attribution to the account… I thought that I had kept these opinions to myself. However I can see that these re-tweets may have been a mistake and would certainly be against Labour policy. I can't argue against that and I will remove them."
In an earlier conversation, Cllr Morton told the LDRS he followed far-right accounts on Twitter to keep on top of "talking points" but did not approve of their points of view. He also said he did not have any other social media accounts. He said, "I do follow a lot of other accounts to keep up with far right-wing talking points but I do not approve or follow their points of view. I think all politicians should follow opposition accounts because you want to make sure you're in touch with what they're saying."
Cllr Morton claims his suspension came two days after he walked out of a council meeting when members discussed suspending the South Fulham Clean Air Neighbourhood project. He joined protesters who filed out of the meeting after the council refused to pause the scheme for 10 weeks while Wandsworth Bridge was under repair. The Clean Air Neighbourhood project fines out-of-town motorists using roads in the area as a "rat-run".
In his resignation letter, Cllr Morton said: "Over time I have come to the conclusion that local Labour Group policies do not reflect the views of my constituents. I have felt increasingly uncomfortable that we are 'doing things to residents, not with them'."
He added, "This came to a head at the Full Council meeting on Wednesday 12th July when I felt unable to support the Labour motions and I left the meeting in disgust at the Cabinet's response to the plight of the residents and business owners in Wandsworth Bridge Road.
"By co-incidence, on Friday 14th I received a confidential email from Labour HO (Head Office) informing me that I was 'administratively suspended' following an unnamed and undetailed complaint alleging contravention of the party's policies. On Tuesday 18th you withdrew the whip from me and terminated my position as a Labour councillor."
Mr Morton said he joined the Labour Party in 2016 and became a councillor in 2017. He has vowed to stay on as an Independent until the next election, which he aims to contest in 2026. As a Labour councillor, he was the borough representative for the Armed Forces community.
The Labour Party and Hammersmith and Fulham Council were contacted for comment however the council said the case was a matter for the Labour Party and would not comment. The Labour Party has declined to comment.


Adrian Zorzut - Local Democracy Reporter