Council blames rising budget shortfall on Ukraine, Brexit and inflation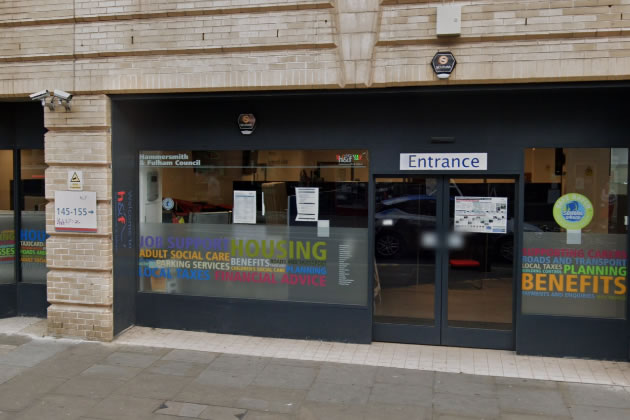 Hammersmith & Fulham Council offices on King Street. Picture: Google Streetview
January 24, 2023
Families in Hammersmith and Fulham borough (LBHF) face a significant council tax hike as they battle the cost-of-living crisis. The rate has been increased by the maximum allowed without calling a local referendum.
The council wants residents to chip in an extra £41 per year to plug a financial black hole it blames on Brexit, the war in Ukraine and inflation. Under the proposals, residents in a Band D property will fork out £25 more than last year and as well as an extra £16 on social care levy fees.
The three per cent hike is to protect key programmes like free school meals and cost-of-living payments for vulnerable locals, the council said. It comes after Band D dwellings were slapped with a £32 increase by City Hall last year, bringing the total council tax paid to £1227.55.
A council report said, "The current major national fiscal conditions of high inflation and interest rates have made a Council Tax increase in 2023/24 unavoidable and a 2.99 per cent increase in the LBHF element of Council Tax is proposed. This level of Council Tax increase reflects the assumption that has been made by the government in the Autumn Statement on the 17th November by the Chancellor and assumed in the funding settlement for local authorities.
"The additional income will fund increasing costs and support investment in, and protect, key services for residents and strengthen future financial resilience."
The local authority has the third lowest council tax rate in the country, which is already at 35 per cent below the London average. It said it would also implement the government's adult social care precept for the third time in the eight years it's been available to councils.
The levy allows authorities that provide social care to adults to increase their share of council tax without a referendum. This fee shows up separately on council tax bills.
LBHF said, "The council is also proposing to levy a 2% adult social care precept (again in line with government funding assumptions). The increase is equivalent to £16 per annum for 2023/24 (at Band D) and will be used to support Adult Social Care services.
"The continued delay in the national review of the funding of adult social care is a major concern and the government is continuing with its strategy of using an adult social care precept (since 2016/17).
"Due to the continued high levels of inflation and instability in the social care market, the impact of the Covid-19 pandemic and the government's continued failure to propose a long-term funding solution to social care funding, the council accepted the need for a 3% adult social care levy for 2021/22 but it was not applied in 2022/23."
It said roughly 47 per cent of residents won't have to pay the increase. The council says it currently has one of the most generous tax rate schemes in the country with almost half of its residents not paying the full amount.
The Consumer Price Index – the tool used to measure inflation on goods – found that inflation peaked in October 2022 to 11.1 per cent and dipped slightly to 10.7 per cent in December, having a huge knock on effect on costs to council for running basic amenities and programmes such as free school meals. It's set to remain high at 7.4 per cent during 2023.
LBHF has promised to freeze fees on children's services and housing. It will also receive £53m from Whitehall to help run day-to-day services as part of an agreed funding plan. The plans will presented to LBHF councillors on 23 February.
Cabinet member for finance, Rowan Ree, said,"Having cut or frozen council tax for five of the past eight years we are now forced by the rampant inflation fuelled by the government's economic mismanagement to increase it in common with many other London councils.
"We still have the third lowest council tax in the country with Band D households paying 10 per cent less in real terms that they did in 2015 and almost half of all homes not paying the full amount.
"We are proud that we have a budget that protects the unique provision of free adult home care, free breakfasts in primary schools, weekly bin collections and a new Law Enforcement Team. All this having suffered a government grant cut from £164m in 2010 to £116m today – a 56 per cent reduction in real terms."
There will be an additional increase to bills as a result of the precept levied by the Mayor of London. This has risen by 9.7% which will mean the average 'Band D' property will pay £38.55 more per year from 2023-24, only a year after an 8.8 per cent rise. This means the average household will pay £434.14 a year.
The new precept will help raise £29.3 million for the Metropolitan Police to fund 500 extra Police Community Support Officers (PCSOs) in a bid to 'bear down' on crime in badly affected neighbourhoods. It will also go to London Fire Brigade to ensure it can respond to major fires and make changes in the wake of the Grenfell Tower enquiry.
Mr Khan said, "The last thing I want to do is increase council tax at a time when many household budgets are stretched, but the Government's refusal to provide the funding our city needs means I've been left with no viable alternative but to help plug the gap by raising council tax by £3.21 a month. This will ensure we can protect and further improve our vital frontline public services, including the police, transport and the London Fire Brigade.
"Bearing down on violent crime and making our city safer for everyone remains my number one priority. The extra funding for the police will go directly towards putting an additional 500 Police Community Support Officers into neighbourhoods across London. This will help us to build on the progress we're making to reduce violent crime in London."
Jacob Phillips - Local Democracy Reporter