Greg Hands claims South Fulham restrictions have created gridlock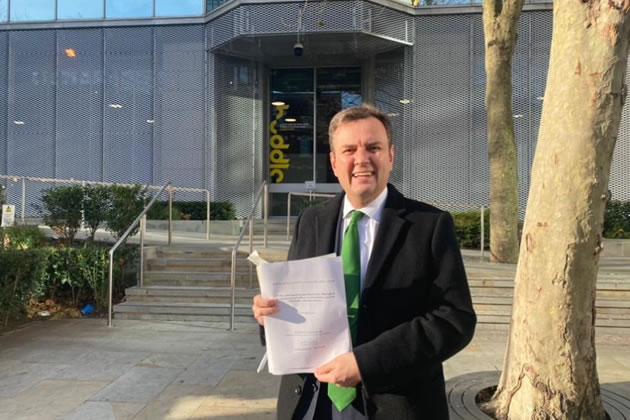 Greg Hands presenting his petition to the council
Greg Hands MP has submitted a petition with 5,539 signatures to Hammersmith and Fulham Council (LBHF) asking for its 'SW6 Traffic Reduction Scheme' to be scrapped.
The Member of Parliament for Chelsea and Fulham says the scheme, recently renamed as the 'South Fulham traffic, congestion and pollution reduction scheme', has created gridlock in South Fulham, with knock-on congestion and increased air pollution across Fulham as a result of the displaced traffic.
Designated restricted roads are monitored by Automatic Number Plate Recognition (ANPR) cameras which fine drivers passing through the road without permitted access.
Visitors, traders, outer borough local business employees and delivery drivers have all been issued with penalty charge notices (PCNs) for £130 which are reduced to £65 if paid promptly.
Visitor permits must be applied for on every occasion and are limited to one per household.
Mr Hands says he has been contacted by hundreds of local businesses and residents across Fulham and Chelsea to raise their concerns, including many reporting receiving multiple PCNs on one occasion.
The introduction of the scheme by LBHF coincided with the scheduled maintenance works to Wandsworth Bridge – an already congested river crossing following the continued closure of Hammersmith Bridge – which reduced capacity to single lane traffic, although the first phase of works was very recently completed. LBHF have blamed the works for the added congestion across Fulham.
Following mounting concerns, the MP organised and chaired a virtual public meeting recently attended by over 130 local residents and businesses, local Councillors, officials from LBHF, representatives from Transport for London (TfL), local London Assembly Member, Tony Devenish AM, and a representative from the Wandsworth Bridge Road Association (WBRA).
The meeting provided local businesses and residents an opportunity to put their questions and concerns directly to LBHF.
Mr Hands say this was the first time, in some cases, they were able to do this given what he describes as the lack of residents' engagement and consultation ahead of the implementation of the scheme. He has accused the council of failing to publish traffic data for the scheme except for selected working groups.
The petition should trigger a full Council debate.
Commenting, Greg Hands MP said, "From the onset, I have expressed concerns about Hammersmith and Fulham Council's scheme and unsurprisingly thousands of residents and local businesses have also done so.
"This scheme has created gridlock in South Fulham and knock on traffic issues across Fulham. As I stated in July, and repeatedly since, the Council need to shelve its hastily conceived scheme and consult and involve residents. My petition, which I today submitted to the Chief Executive at LBHF, was signed by 5,539 individuals and calls for the immediate cancellation of its 'SW6 traffic reduction scheme.
"Traffic in Fulham is a problem, but this is not the solution. I look forward to hearing from the Council and working constructively with them and residents to get Fulham moving again."
December 10, 2020