This new take on Ingmar Bergman's 1966 film not just for film buffs says Liz Vercoe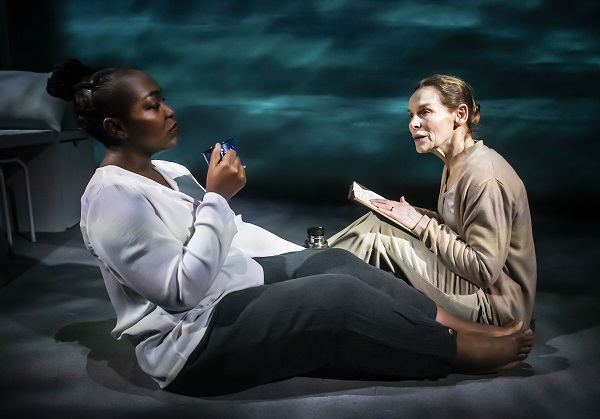 Pictures by Pamela Raith
Talk about being in the heart of the action, with this production the audience finds itself in the guts of the actual musical instrument that defines the action. An Earth Harp is big. Very big. Invented by installation artist and musician William Close, who plays it here until February 1, he's previously strung it from mountainsides and Rome's Coliseum.
This one is almost a baby, its 25-ish wires strung just 100 feet or so into the roof void of the smaller of the Riverside Studio's two new theatre spaces and lit like spider's web. You sit right under them.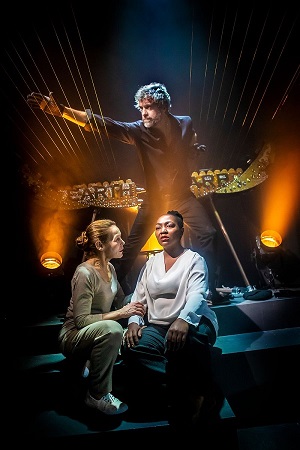 It's a bit of an obvious metaphor: making the building consubstantial with a play about merging identities. But the whole production is a rather like that, teetering on being a bit up itself, only to be saved moments later by wonderful performances and Bergman's gripping storyline as written in his original script (movie buffs may be distracted by the differences).
Paul Schoolman both directs and plays the Bergman-figure narrator and other passing characters. The weight of the performance rests on the massively experienced shoulders of Alice Krige as Sister Alma, the nurse tasked with caring for a mysteriously self-silenced actress, Elizabet, here played by Nobuhle Mngcwengi who gives a masterclass in body language.
And so you have it. Sister Alma confessionally pouring her thoughts, memories and fears into the silence that is Elizabet, as the sea that surrounds them sweeps across the back projection. With billowing curtains you can almost smell the seaweed. It's intense and intimate, on a tiny stage space, as the harp musically shivers and vibrates like tunefully stretched nerves. And it's a very special experience to be part of.
Psychoanalysts had a field day with the original film, examining the themes the dialogue throws up: masking oneself, death, abortion, motherhood, loss of identity, what's now post traumatic shock but was then hysteria, sex, anger, lesbianism... But where Bergman concentrated on the physical similarities of the women to underline his story of merging personalities, here that's not possible with actresses of different race. Instead we get a much more relevant-to-today take on the unconscious merging of self: how these women reveal their sameness under the skin. Similarly the photos of lost children that terrify Elizabet are also brought right up to date.


It was said at the time of the film's release that anything you thought it was about could be contradicted or seen another way. That's pretty well true here, too. Which is probably a measure of this production's success. Go, be entertained, enjoy the novelty and ponder.
Persona, 90 minutes, no interval, runs until 23 February. Box office: 020 8237 1010 or online at www.riversidestudios.co.uk.
February 3, 2020