Neighbours join forces to help those who are vulnerable or self-isolating during crisis
The community in Hammersmith & Fulham is coming together to help others amid the continuing crisis caused by the coronavirus outbreak.
Hammersmith & Fulham Covid-19 Mutual Aid Group, one of 900 launched across the country to support the most vulnerable in our communities has its own Facebook page, where local people can meet online, share ideas and offer their services.
Its Key aims:

1) Help those quarantined by conveying their requests for help to people willing and able to support them.
2) Share clear advice from authoritative sources.
3) Support and consolidate efforts to organise community action.
Closer to home, there are also local ward Covid-19 Mutual Aid Whats App groups - one for every ward in the borough.
To find out more and join the group search for Hammersmith Covid -19 Mutual Aid Group on Facebook.
As we reported earlier, Hammersmith & Fulham Council is also working alongside a number of community organisations setting up a new CAN, or Community Action Network, and is urging fit and able people to sign up and get involved. Find out more here.
United in Hammersmith & Fulham Charity's Community Coronavirus (Covid-19) Response Appeal has also been launched to enable local individuals, businesses and foundations across the borough to support local response.
The appeal stands in partnership with Hammersmith & Fulham Council's coordinated effort with the voluntary sector to prevent and respond to the pandemic and the charity says, ss such, it is best placed and connected with frontline groups to see what's needed and how funds raised can be best spent.
Some of the services you could be helping to fund are collecting prescriptions, befriending older people on the phone, a community hub deep clean or purchasing Personal Protective Equipment for vital front line workers.
The charity adds: " We are proud that 100% of funds raised will help groups working with people who face risk as a result of Coronavirus in our borough."
You can donate to the appeal here.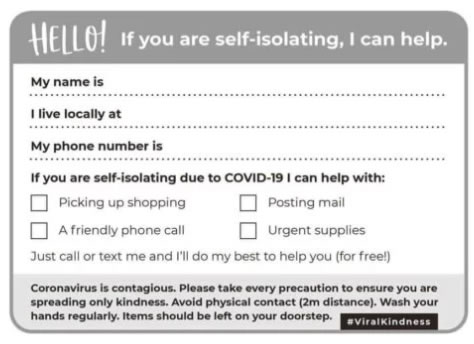 Many local people are already taking action, inspired by #viralkindness on Twitter. This campaign, launched by Cornwall resident Becky Wass, provides volunteers with a shareable card aimed at neighbours who are self-isolating. The downloadable card offers assistance with tasks such as shopping, posting mail or simply charing a friendly phone call.
For those short of time, a very simple way to help others is to donate much needed food to H&F Foodbank, which is promising to stay open during the current crisis. Find out more here.
Those shopping in Hammersmith can help four local homeless charities during the crisis through Small tap, big change, which allows people to use a contactless device at locations around town centre businesses to make a fixed £2 donation. Find out more here.
If you have a community project or campaign you would like to share with the community, get in touch and we will add it to our site. Contact us by emailing editor@fulhamsw6.com, editor@hammersmithtoday.co.uk or editor@shepherdsbushw12.com.
March 20, 2020