And appeals to local community to keep donating much needed food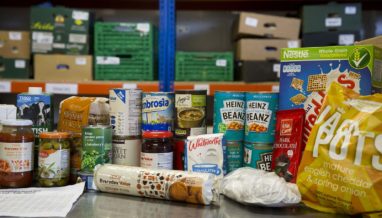 Hammersmith & Fulham Foodbank has promised to stay open during the current crisis and has appealed to the local community to continue much needed food donations.
On its website, the foodbank says: " The foodbank relies on your goodwill and support especially with so much uncertainty around Coronavirus.
"We would be grateful if you could buy items from this list only. The most important thing we can provide at this time is food, so we are not asking for toiletries or other 'extras' at this time. "

Here's what is needed right now:
URGENTLY NEEDED FOOD ITEMS
LONG LIFE/UHT MILK
LONG LIFE/UHT JUICE
TINNED VEGETABLES (SWEETCORN, CARROTS, PEAS ETC)
BREAKFAST CEREAL (NOT PORRIDGE PLEASE)
TINNED FISH (PREFERABLY TUNA PLEASE!)
TINNED FRUIT
INSTANT MASH OR TINNED POTATOES
TINNED TOMATOES/PASTA SAUCE IN JARS
TINNED MEAT - CORNED BEEF, CHICKEN, MINCE, HOT DOGS, TINNED MEAT PIES, ETC
WE'VE GOT PLENTY OF
FEMININE HYGIENE - PADS AND TAMPONS
BAKED BEANS
PASTA
TEA

Donations of food can still be made at locations around the borough, including supermarkets and libraries, but people can also help by donating money online at Bankuet.
This Coronavirus crisis has come just weeks after H&F Foodbank's CEO, Daphine Aiken was awarded an MBE in recognition for her outstanding contribution to charity work.
Daphine, 52, who has managed the foodbank since it was set up ten years ago, was thrilled to receive the award saying: "I have been very fortunate."

And she praised the team of volunteers she works with at the foodbank, saying: " I have to share the credit with quite a few people. I owe those people a big thanks."
On its website, H&F Foodbank has also issued a message to its clients, saying: " We believe that everyone deserves to be treated with dignity and respect, and that no-one should have to use a Foodbank to survive. Until Foodbanks are no longer needed, we are committed to being here to help you.
" We are taking seriously our responsibility to ensure that all visitors to the Foodbank as well as our volunteers, and staff are protected as much as possible from Coronavirus. This is so that we don't have to even think about closing in the coming days and weeks because our volunteers and staff are sick.
" Following Government & NHS advice, we have felt it necessary to temporarily change the way we operate.
" Please don't be upset if we ask you about your recent travel history, your recent contact with people who are sick, or even your own health. It may be that we have to ask you to wait outside the Foodbank – but we will bring your food parcel out to you – we don't want you to go hungry."
The Foodbank adds:
Most food parcels will be pre-packed during this time. Changes will only be made for people with allergies or for dietary reasons
We will not be serving any snacks, and possibly won't offer drinks either
We won't be able to swap items
We may limit the number of people allowed into the Foodbank Centre at any one time
We may refuse you entry (but will still give you food)
We may have very few volunteers available and appear to be a bit rushed
Food supplies may become in short supply and your parcel may not look the same as it did just a few weeks ago
We may have to close a Foodbank Centre at short notice.
Above all, we want to continue to do the best we can to help you at this time, and ask that you be patient with us!
If you are a Voucher Partner/Referral Partner, please check your inbox for an update by email.
The Foodbank says this information will be updated based on further information as it becomes available.
To receive a food package from H&F Foodbank people need a voucher which can picked up from a range of different organisations, including social workers, GPs, the Citizens Advice Bureau and Children's centres.
The charity has three centres, each in a different part of our borough.
White City Distribution Centre, The Hub @ 75 is at 75 Bloemfontein Road, White City W12 7DA. It is open every week on Mondays, 12.30pm - 3pm; Wednesdays, 10am - 12pm and Saturdays, 10am - 12.pm.
Fulham Distribution Centre, Christ Church Fulham, 67 Studdridge Street, Fulham, SW6 3TD. It is open every week on Tuesday from 10.30am to 1pm and Friday from 2pm to 4.30pm.
Shepherd's Bush Distribution Centre, St Simons, Rockley Road, Shepherd's Bush, W14 0DA. It is open every week on Thursday from 1pm to 3pm.
For general enquiries about Hammersmith & Fulham Foodbank, email info@hffb.org, or visit the website. Alternatively you can follow it on Twitter and keep up-to-date via Facebook.
March 20, 2020