Shut 18 times due to staff shortages and customer incidents since 2019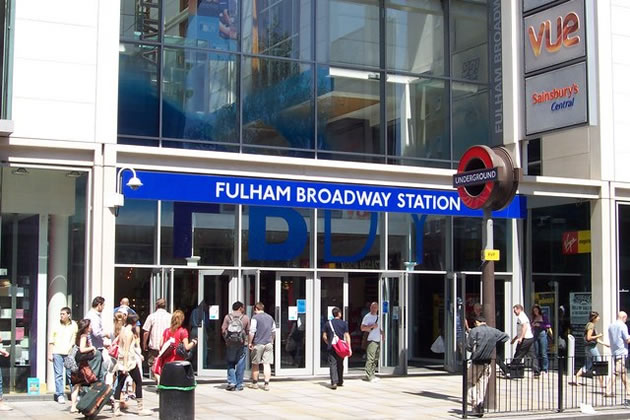 A Fulham Broadway Station
Newly released figures have shown that Fulham Broadway station has been closed more often than any other on the network since 2019.
There have been 18 incidents during that period in which the station was shut for 79 hours due to staff absences, customer incidents and signalling failures.
In total London's Tube stations being closed for a total of 76 days over the past three years.
Of the 272 Tube stations on the London Underground network, 132 have experienced closures since January 2019 due to staff shortages, the majority due to Covid-19.
But 248 Tube stations have been closed in the past three years due to reasons other than staff absences or Covid.
There were 1,658 station closure incidents between January 2019 and April 2022 due to issues such as customer-related incidents, infrastructure failures including fire alarm and lift issues, and "asset-related" issues.
Kentish Town is the station which has been closed for the longest time in the past three years, having been closed for a total of 112 hours due to 17 separate incidents.
Wood Green, Walthamstow Central and Oval stations were closed for 30, 29 and 24 hours respectively while notable stations including King's Cross, Heathrow Terminals 4 and 5 and Oxford Circus all faced lengthy closures.
The figures were revealed by Sadiq Khan following a written question from Labour London Assembly Member Elly Baker.
Responding to Ms Baker's question, the Mayor of London said 2021 saw a "rise" in station closure incidents "mainly due to an increase in infrastructure incidents and customer-related incidents".
Last year alone saw 590 station closures across the Tube network, 215 of which were due to infrastructure failures.
Assembly Member Baker, who requested the figures, said they demonstrate the need for a "fair, long-term" funding deal for TfL.
She said, "The Government's inaction and inefficiency in agreeing a TfL funding deal is extraordinary. Londoners are left facing the frustration of further station closures, staffing problems and the delay of key infrastructure repairs and upgrades.
"TfL workers have gone above and beyond to keep London moving in extremely challenging circumstances. Coming out of the COVID-19 pandemic, ensuring London's transport network is more resilient and fit for the future is paramount."
Recently, the Government agreed a short-term extension to the bailout it had provided TfL in February after negotiations for a new deal reached a stalemate.
As part of the previous funding deal, TfL is required to make savings of £730 million per year which has led to proposals including job cuts and a four per cent cut to bus services.
Earlier this month, members of the RMT union brought the Tube network to a standstill as they held strikes against TfL's plans to cut around 600 Tube station jobs, while more strikes are expected soon.
TfL has said the cuts will be made by not filling some 250 vacancies that were available at Tube stations, while as many as 350 staff would not be replaced upon retirement.
Transport Secretary Grant Shapps has said that Ministers "do want to give TfL a longer-term capital deal" but he has called on the Mayor of London to "reset" the relationship between City Hall and Whitehall.
In a letter, Mr Shapps said cuts are "not necessary and will not save much money", accusing the Mayor of London of using them as a "political weapon".
Sadiq Khan reiterated cuts would have to be made if a long-term funding deal is not agreed.
Mr Khan told members of the media, "Cuts on this scale have never been seen in London before. This is not sabre-rattling or scaremongering. It's in TfL's official budget. It's no way to treat Londoners and the transport network they rely upon."

Joe Talora - Local Democracy Reporter
July 11, 2022