Objectors claim it will be seen from West Brompton Cemetery and disturb bats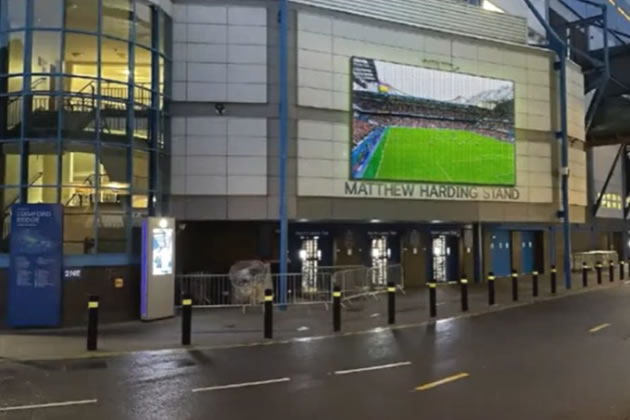 Visualisation of how the screen might look. Picture: Chelsea FC
March 8, 2023
Chelsea FC has been given permission to put up a new advertising screen at Stamford Bridge despite complaints it will impact West Brompton Cemetery and could cause issues for bats.
A seven-metre high and four-metre wide LED screen is set to be installed near the entrance to the Matthew Harding Stand at the famous stadium.
But Hammersmith and Fulham Council's ecological officers raised worries about the impact the screen could have on wildlife, particularly bats flying by.
A council report into the issue said, "The screen would be sited in close proximity to existing light sources within the stadium and would be orientated so that it would not directly face towards the railway line or cemetery.
"However, given the size of the screen and levels of illumination involved, there would still be the potential for an impact upon wildlife and in particular foraging bats."
In order to protect wildlife, the council asked that the screen would be switched off at night so the bats are not impacted.
A planning officer explained at Hammersmith and Fulham's planning committee, "In the cemetery and in the railway site there is the possibility of there being bats.
"They are a protected species because they are a protected species our ecology advisers have told us the lights should be turned off at certain times… before and after sunrise."
The screen is set to be illuminated between 7am and 10pm on home matchdays and between 7am and 8pm on all other days.
Nearby residents also wrote to Hammersmith and Fulham Council to complain about the plans. A council planning report shows residents were concerned about the impact the screen could have on visitors paying their respects at the Grade I listed Brompton Cemetery.
Neighbours were worried about the amount of light pollution the screen could generate and the impact it could have on wildlife at night. In total there were 40 objections to the plans.
The planning officer later explained, "Generally [neighbours] talk about the impact on West Brompton Cemetery, on the conservation areas in our borough, light pollution, the number of adverts, and impact on wildlife after dark."
But since the screen will be built 60 metres away from the famous cemetery council officers recommended Chelsea's planning application.
The Friends of West Brompton Cemetery and Kensington and Chelsea Council also did not object to the plans.
Hammersmith and Fulham Council voted unanimously in favour of building the new screen on Tuesday, 7 March.

Jacob Phillips - Local Democracy Reporter