Councillors unconvinced by bid cite management of match day footfall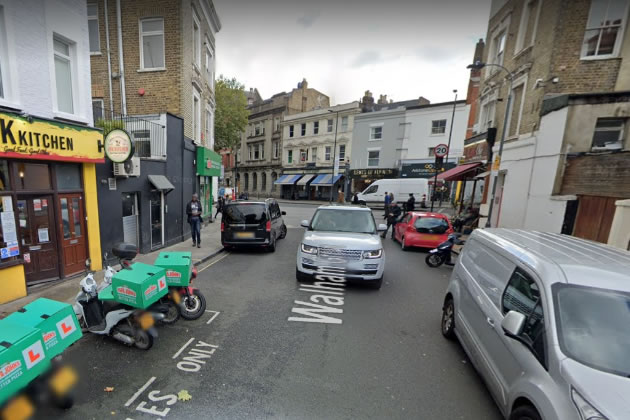 Residents complain of noise and congestion on Walham Grove. Picture: Google Streetview
May 9, 2023
Plans for a new 'taproom' near Chelsea Stadium have been torpedoed after its licence application was rejected.
Hammersmith and Fulham's licensing committee on Tuesday, 2 May, cited concerns over the applicant's experience and how the Swimming Pig would deal with the added footfall on match days.
Deputy council leader Ben Coleman suggested the application lacked "reality". Addressing the applicant, Colette Brown, Cllr Coleman said, "My feeling after listening to everything that has been said is that this is an optimistic application that doesn't necessarily look at the reality of the street that it's in or of the challenges a business like this would face."
Cllr Coleman said Walham Grove in Fulham was already surrounded by pubs and expressed concern over Ms Brown's plans to deal with outside drinkers.
He said, "I just don't think this is the right place for this for all the reasons people have said. It's a nice idea but I think it's in the wrong place and I don't think it will be as free of problems as it needs to be, smack bang in the middle of a residential street. On those grounds, I ask the committee not to support the application."
Residents also criticised the plans. Harry, who has lived on the street for 43 years, feared the shop and two nearby take-aways would turn the area into "open air restaurant".
He said, "I think we live in a fool's paradise if we don't think there will be an increase in litter – the cans and bottles and the people consuming them. We've noticed that often people [who get] fast food sit in their cars outside where they consume and things are just dropped from out of their window and they just drive off."
He also said the 'taproom' would only exacerbate the problem of punters urinating on people's front gardens on match day.
Bahar Ghaffari said her teen daughters already struggle to walk down Walham Grove because of a group of men who linger outside other drinking establishments nearby. She also questioned Ms Brown's claim that her shop would attract a different crowd of people because it sold up-market beers.
Ms Ghaffari said, "I do feel strongly that we'll be left with groups of people and because the establishment is small, a lot of people will filter out of the store and onto the pavement and just exacerbate what's already a difficult situation.
"People are inevitably going to walk out with beers in the hot weather and then we're going to start having a party on the pavement, and the party on the pavement will go left, right, and centre. And as [a resident] pointed out, we're going to start having food. It's just going to be a picnic ground, unfortunately."
Graham said he's regularly abused by matchday punters. He said, "Until you've had someone peeing in your garden and when you've had words with them they start swearing at you and abusing you – you haven't lived [there]."
Ms Brown admitted she had not visited the area during matchday but promised not to sell alcohol two hours before a match. She even suggested closing down altogether.
She said this was her first business and had quit her 14-year career as an account executive to run her own taproom. She says she worked in a number of pubs and breweries but wanted to open her own.
She said she did not believe the venue would attract big drinkers because it would sell expensive beers – some as much as £15 a pint.
She said, "I do obviously want customers coming in but they won't necessarily be coming in for long periods of time given I won't be selling hot food and the pints are going to be cheaper from around the corner."
Despite this, the committee rejected the application citing "all the individual circumstances of this case and the promotion of the four licensing objectives".
The Swimming Pig was to be a "tap room" and off-licence specialising in beers that wanted to operate out of 61 Walham Grove from 9am till 10.30pm most days.
The street was also once the scene of a murder. In November 2016, Salim Coulter, 24, who was shot dead in front of his friend after having had a meal with them by a rival drug dealer.
Ms Brown had promised to comply with a number of demands put forward by the Met, including the installation of CCTV and mainly selling mid-strength beers. She also promised to use plastic cups on match days and assess the need for security.
Residents on Walham Grove said their front porches are littered with urine and empty beer cans when matches at nearby Chelsea Stadium.
One resident said: "Street does not have any public toilet facilities which implies our front gardens will be used as mobile toilets (as is currently the case post-Chelsea matches!)." A third added: "We live a couple of doors down with our small child. The noise from people, peeing in our garden and other nuisance from existing pubs in the area is already a big issue."
You can view a recording of the licensing meeting here.

https://www.youtube.com/watch?v=CpaO_K4VlMI

Adrian Zorzut - Local Democracy Reporter