Club says new Riverside Stand will improve stadium accessibility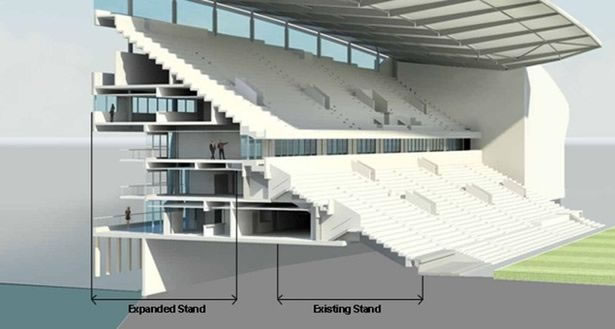 Fulham's Riverside Stand design
Fulham Football Club have been criticised by an accessibility charity for failing badly in their provision for disabled supporters.
A study by Revitalise found them to be bottom of the league for accessibility in the Championship with local rivals QPR and Brentford faring equally badly.
The majority of clubs in the league fail to meet guidelines that have been in existence for over a decade but the three London Championship clubs have come rock bottom each with fewer than 25% of the recommended number of wheelchair spaces.
A club spokesperson said, "Fulham's ground and disabled facilities have been improved over a number of years. As we progress toward the building of a new Riverside Stand, we are looking to greatly improve these facilities further."
Following the findings of last year's investigation of accessibility at Premiership clubs, national disabled people's charity Revitalise has published an Accessibility League Table of Championship clubs, revealing that many are missing the mark when meeting the accessibility requirements of disabled supporters who are wheelchair users.
At the other end of the table, there is good news for Blackburn Rovers, Derby County, Rotherham United and Brighton and Hove Albion - all exceeding 100% compliance with the UEFA's recommendation for wheelchair spaces, published in the Accessible Stadia guidelines back in 2003. All four clubs find themselves at the top of Revitalise's 'Footie4All' league table.
Previously, Revitalise conducted a survey of disabled supporters to gain an insight into their overall match day experience and the improvements they would like to see made in the future. Of these improvements, disabled fans cited a better view of the action (57%), the chance to be with friends (55) and more wheelchair spaces (53%) as the top three areas that they would like to see clubs make progress.
The Accessible Sports Grounds Bill, currently being passed through Parliament, will enable local authorities to enact discretionary powers whereby they can refuse to issue a safety certificate where they consider, or have been advised that, the ground does not comply with the 'Accessible Stadia' guidelines, published by The Sports Grounds Safety Authority.
A QPR Club Spokesperson said, "We know this is an issue at Loftus Road but we have the maximum amount of wheelchair spaces we can have given the accessibility issues of a very old stadium. We have very few areas where we have step free access.
"As has been documented, the club has plans to move to a new stadium in the future and will offer excellent facilities that comply with all requirements."
Revitalise is using these findings as evidence that more needs to be done to accommodate and include disabled supporters as part of the match day experience offered to fans and is calling for Championship clubs to up their game and meet their obligation to disabled supporters as set out by the Equality Act by installing more and better facilities for disabled fans.
The charity is also urging the Championship clubs to comply with the Accessible Stadia Guidelines - as they already agreed to over a decade ago – or risk falling foul of the new law which could empower their local authorities to close them down if they do not do so.
Revitalise Chief Executive Chris Simmonds commented, "Our study shows that for people who rely on wheelchairs, going to the big match might not be the joyful experience they had hoped for and it is down to the clubs to put this right.
"Our study found that only four Championship clubs have been able to comply with simple guidelines that were laid down well over 10 years ago! There can be no excuse for the 20 remaining clubs to still be lagging behind. The Premiership has pledged to become fully compliant by August 2017, so we are urging the Championship to follow their lead."
"Disabled supporters have an absolute right to expect the same enjoyable, socially inclusive experience as every other fan and football clubs have a moral and legal obligation to provide this – so come on, Championship, get on the ball!"

August 11, 2016