Club wants to open up new riverwalk and add community facilities
Fulham Football Club's plans to increase the capacity of Craven Cottage football ground by 4,300 seats have been given the go ahead.
Home to the club since 1896, Craven Cottage currently accommodates 25,700 fans but can now expand to 30,000 seats following approval from Hammersmith & Fulham Council's planning applications committee on Thursday July 26.
Subject to various conditions the Riverside Stand, nearest to the Thames, will be partially demolished and extended to include a new upper tier that will wrap around the existing stand and create new hospitality space, a new riverside facade, new roof and four residential units.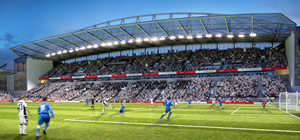 The planning consent allows for the partial demolition and rebuild of the western ends of the Putney and Hammersmith stands, including installation of new seats and the removal of two floodlight masts.
The riverside walk along the Thames will be opened up on non-match days and FFC will make a £600,000 contribution for the restoration of Bishops Park, plus an annual contribution of £40,000 per year for 10 years for on-going maintenance of the park and pay £60,000 to install heritage gates at the Stevenage Road entrance to Bishops Park.
FFC will make a series of payments to improve signage, CCTV, and pedestrian and road safety measures in the area, as part of the planning consent. The club will also continue to provide stewards to manage the crowds outside the ground and additional street cleaning on match days.
Cllr Nicholas Botterill, H&F Council Leader, says: " Craven Cottage is the historic home of Fulham Football Club and this modest expansion, which will be carried out in a sensitive and sensible way, will allow the club to remain competitive in the top tier of English football while removing the existing, rather ugly, Riverside Stand. Our residents will also enjoy a series of community benefits such as an opened up river walk and improvements at Bishops Park.
" We are the only borough in Britain to be the home to three top-flight football clubs and we are keen to work with all of them to get the best deal for our residents."
The council received 600 representations to its consultation on FFC's proposals with 453 in support of the development, 145 against and 2 with no comments.
Alistair Mackintosh, CEO of Fulham Football Club said: "This is extremely exciting news and we are all delighted with this outcome. Craven Cottage is synonymous with Fulham FC and it is vital that the Club is given every opportunity to develop the facilities available to ensure that it can continue to prosper and compete, and remain at its home for the long term."
July 27, 2012