Ready for guests in 2022 after building's restoration is completed by end of next year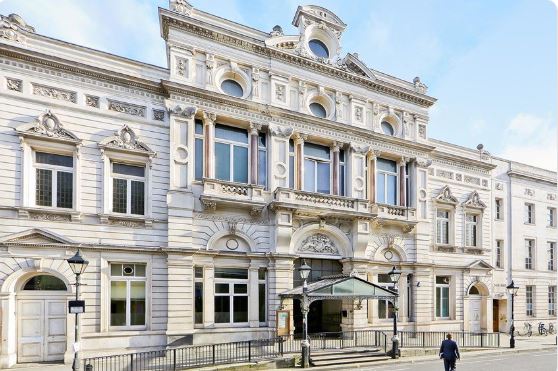 90 'hometel' rooms, most with their own kitchenettes, are to be created at the centre of the redeveloped Fulham Town Hall.
Hometel specialist room2, which already runs a townhouse in Hammersmith Grove, has agreed a 30 year lease as the headline tenant in the Grade II listed town hall.
Fulham Town Hall was bought in February last year by property developer Ziser London, which is now beginning work on its restoration.
The hometel is the first of a number of ventures expected to move into the restored town hall over the next year, including restaurants, event and co-working spaces.
The owners say the project will also reclaim and enhance some of the building's oldest artwork and features including the council chamber.
Though the town hall currently remains run down and neglected, the company says its restoration is due to be completed by the end of 2021.
Construction of Fulham Town Hall by room2 will begin in May, if planning permission is granted, and will be ready to welcome its first guests in early 2022.
room2 says it will be heavily influenced by the latest in sustainable building design, with the majority of rooms featuring kitchenettes. Guests will also have the ability to select their own type of mattress and check in via their mobile.
Guests will be able to stay for as little as one night to one year and beyond.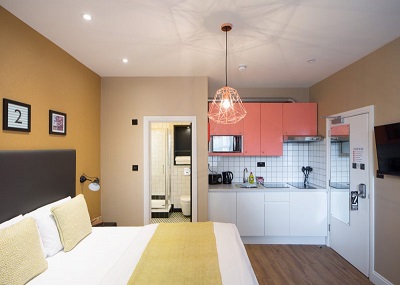 A 'hometel' room with its own kitchenette

Robert and Stuart Godwin, former members of the British Olympic Development Sailing team, hometels, say they devised hometells to combine the best elements from Airbnb, serviced apartments and boutique hotels, aiming to appeal equally to corporate and leisure guests and those seeking alternative forms of residential accommodation.
Fulham Town Hall by room2 will be their fifth operating hometel when it opens next year, alongside Southampton hometel and Hammersmith Townhouse, both already open and hometels in Manchester and Chiswick, both in the pipeline for later this year.
Guy Ziser, CEO of Ziser London, adds: " We are excited to have room2 on board for its first high end location in London; we believe hometels to be a forward thinking product which will complement the other proposed uses within Fulham Town Hall.
"This is a refurbishment that will breathe much deserved and long awaited new life into what is a truly special building for the community and which will further position Fulham as a destination of a choice."

Co-founder Robert Godwin said: "nZiser London's vision for transforming Fulham Town Hall, one of West London's most iconic and unique buildings, excited us from the outset. The location is in a neighbourhood that our family business has been active in for nearly half a century and we are proud to have the opportunity to be a part of this landmark project.
" As our first premium hometel, Fulham Town Hall by room2 is a natural evolution of our business model and demonstrates our ability to curate the product to fulfil a range of guest needs.
"We are incredibly excited by the potential complementary mix of operators being lined up to join us, bringing together like-minded experts focused on delivering discerning customers a world class experience."

The town hall had stood empty for seven years before being bought by Ziser London in 2018. It was originally put on the market in 2011 by the then Conservative administration at H&F Council alongside a number of other "under-used" council buildings sold in order to reduce the council's debts. At the time the council said it could no longer afford to maintain the Victorian building, built in 1888.
Though it was widely expected to be acquired by a hotel group, it was instead bought in February 2012 by American leisure and retain chain Dory Ventures, which proposed to transform it into a 'quintessentially British lifestyle emporium' including a flagship store for pram specialist Maclaren.
However, in December 2015 Dory Ventures' planning application - which proposed demolishing the Grade 11 listed building behind its original facade, and adding a new five storey building - was comprehensively rejected by H&F Council.
The sale was reportedly secured with a loan of £10 million, which would appear to be a bargain price tag for such a landmark building. The deal was facilitated by a loan from business bank OakNorth, arranged by BBS Capital.
Priya Harley, debt finance director at OakNorth, said at the time: "Ziser London has an extensive track record in investing and developing London based residential and commercial properties, in particular ones with architectural significance or a unique heritage. "