Application granted to host events with bar until midnight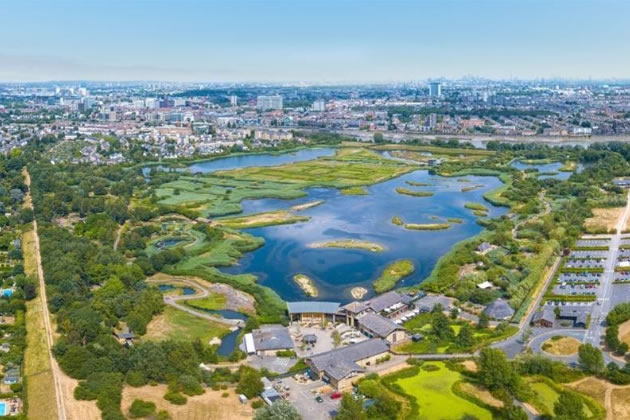 London Wetlands Centre. Picture: Visit Richmond/Facebook
June 4, 2023
The Barn Elms Sports Centre has won a battle to hold events with music and alcohol despite fears from a famous neighbouring nature reserve birds will be 'scared off'. A manager at WWT London Wetland Centre, next to the sports grounds in Barnes, raised concerns visitors will be driven away if there is a decline in species at the reserve due to potential disturbance.
But Enable Leisure and Culture has been given a licence to hold the activities on part of the sports centre's 52-acre site. Richmond Council's licensing committee granted the application with amended hours after a hearing on 30 May.
It means the centre can sell alcohol from 11am to 10.30pm on Sundays to Thursdays, and 11am to 12am on Fridays and Saturdays, at its clubhouse on Rocks Lane. It can hold entertainment there, including live music, from 9am to 10.30pm on Mondays to Thursdays, and from 11am to 10.30pm on Fridays and Saturdays.
The licensed area also includes surrounding field and a new temporary marquee.
The committee ruled the amended hours along with offered and imposed conditions would address residents' concerns and "mitigate any potential issues of concern to the London Wetland Centre".
The number of pre-booked events that can take place under the licence a year was limited – including 40 with under 99 guests, along with 10 of 499 attendees and five with more. The number could be increased if considered appropriate in future years.
The ruling rea, : "If the operation of the premises licence has a negative impact on the licensing objectives any person can apply for a review of the premise licence which could result in the reduction in the number of events."
The committee also limited the playing of amplified music outside to the large rugby pitch and added a condition for the temporary marquee to have CCTV when alcohol sales take place.
Licensing consultant Frank Fender, representing Enable, told the hearing that if no events were taking place, alcohol would only be sold in the clubhouse and it would close at its standard hours. The licence, he said, would allow Enable flexibility in accepting event bookings.
The bookings could be from individuals or groups, from family celebrations to corporate events. Neighbouring sports facilities at the centre already hold a licence.
Adam Salmon, WWT London Wetland Centre manager, said the reserve was concerned about noise and lighting from outdoor events affecting breeding wetland birds, overwintering duck numbers and bats.
He said, "The Wetland Centre is a business which can be affected by disturbance, so disturbance to fauna in the forms of birds and bats, but it's also the visitors that we get during our opening hours. So those visitors are coming to a place for a tranquil event and a big part, and a much-growing part of our business is wellbeing. Now that would be adversely affected by very loud concerts or whatever it is that you are suggesting that may be held… on the playing fields areas as part of the application."
He added, "If the species are being affected and we've got no birds on site because they've also been scared off, or we see gradual declines in species because of noise and lighting, then that will also adversely affect our business because people will stop coming."
The reserve would not object to indoor activities if noise and lighting are kept at an appropriate level, Mr Salmon said.
But he warned, "We do have concerns if there are large numbers of people exiting the premises late at night having consumed alcohol because that is on our perimeter and we've had many problems in the past, not saying it's come from that area, of drunk people trying to access our site over fences and things like that."
He added, "We cannot risk causing disturbance to what we've already got. These spaces are diminishing as it is and that would be a tragedy."
Neighbour Victoria Gillard said the area is very quiet and peaceful, "basically in the middle of a nature reserve". She raised concerns that noise from events like "weddings and parties that are going to be in the temporary marquee are going to be really disruptive for local residents".
She said, "It's incredibly stressful this whole process anyway. It's creating anxiety, affecting mental well-being of residents, the uncertainty of knowing… how we're going to be disturbed."
Local Alejandra Leon Leiton said she did not believe the applicant had sufficiently addressed potential "disruption to the peacefulness of the surrounding residential area in the actual application for running the events and selling alcohol".
Mr Fender said the Wetland Centre and residents would be notified about planned events, along with ongoing communications. He said each event is risk-assessed and Enable has a noise management plan to ensure residents and businesses are not disturbed.
The consultant added the sports centre takes its "social and legal responsibilities very seriously" and would not "undermine the licensing objectives".
He later said, "This applicant is an extremely experienced operator of events which are managed in a way that does not cause issues for local people or for businesses."
He argued comprehensive conditions on the application addressed concerns raised about potential anti-social behaviour and noise. There were no objections from responsible authorities.
He added disturbance to wildlife does not "constitute one of the licensing objectives" but the applicant is "acutely aware of the need to ensure that none of the events that take place at the sports centre adversely impact on the London Wetland Centre".
Cara Gibson, managing director at Previse Events, a freelance company which supports events, said the sports centre usually receives applications for community and sporting events – "no large gigs, no music concerts, nothing of that nature would typically take place".
She said big events would not be held over consecutive weekends and a traffic management plan is in place for the site.

Charlotte Lillywhite - Local Democracy Reporter