Online accounts detail claims of assault, coercion and rape by pupils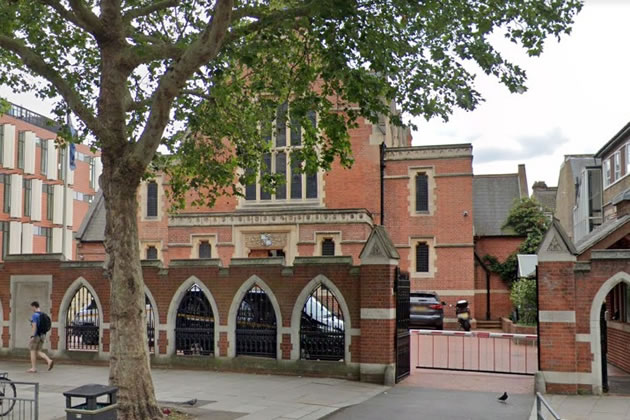 Latymer School. Picture: Google Streetview
A London private school has reported a series of anonymous sexual abuse allegations to the Metropolitan Police.
The allegations – including of rape, sexual assault and coercion – refer to incidents at Latymer Upper School in Hammersmith that it is claimed were committed by pupils.
The £20,000-a-year school, whose alumni includes Alan Rickman and Hugh Grant, has also notified Hammersmith and Fulham Council, which runs children's services in the borough.
A school spokesperson said it was "disturbed" by what it had heard, and that it takes "a zero tolerance approach to behaviours that foster the prevalence of misogyny, sexism, harassment, abuse and assault."
The allegations have appeared on the website Everyone's Invited, where male and female students from many schools and universities have posted anonymous, undated testimonials about their experiences.
A high number of testimonials were thought to have been posted in the last two weeks, following the death of 33-year-old Sarah Everard who was abducted in South London on 3 March.
The Times newspaper reported that Latymer Upper School was named in testimonials more times than any other school or university.
The school spokesperson said, "It was deeply disturbing reading the accounts by young women, and men, of alleged incidents that have occurred, both on-site and outside of schools or university campuses across the UK. We are full of respect and compassion for all of those who shared their harrowing stories.
"We take all such issues very seriously and have written to our students and alumni updating them on our policies and approach and encouraging anyone affected to come and talk to us directly. We are listening carefully to our community and reflecting on what further steps we should take."
They continued, "All staff at the school complete regular safeguarding training and we take any report or allegation made by a member of our community extremely seriously. As well as our highly experienced pupil welfare officer, our school counsellors and designated safeguarding lead and form tutors, our students or alumni can speak with any teacher they feel comfortable talking with…
"We have a zero tolerance approach to behaviours that foster the prevalence of misogyny, sexism, harassment, abuse and assault."

Owen Sheppard - Local Democracy Reporter

March 23, 2021