Anger at refusal to suspend restrictions during Wandsworth Bridge closure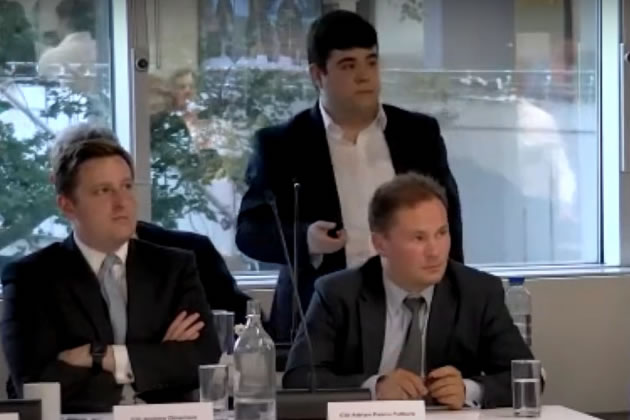 Conservative councillors look on as protestors are ejected. Picture: YouTube
July 14, 2023
A Hammersmith and Fulham Council meeting had to be temporarily suspended after protesters started shouting "you have our livelihoods on your hands" when councillors backed a controversial clear air scheme.
Mayor Patricia Quigley paused the Hammersmith and Fulham full council meeting on Wednesday night (12 July) for five minutes and security swooped in to ask the group of frustrated residents and business owners to leave the chamber..
Tensions started to mount earlier in the evening when the group pleaded with councillors to suspend a section of the South Fulham Clean Air Neighbourhood project, which fines out-of-town motorists using roads in the area as a 'rat-run', during the 10-week closure of Wandsworth Bridge for repairs.
Those tensions finally boiled over when opposition councillor Jose Afonso took to the floor to blast the Labour administration's refusal to back a 10-week pause.
Protesters could be heard shouting "shame!" and "those livelihoods are on your conscience!" as security was called in to usher them out.
A recording of the meeting was published on YouTube and the altercation can be seen at about one hour and three minutes in.
When the meeting resumed minutes later, Cllr Afonso said: "This was not a big ask. Our plan is 10 weeks, that's the duration of the closure of Wandsworth Bridge, a 10-week pause to the trial to the west of Wandsworth Bridge Road and tonight you have told businesses, their livelihoods, no.
"You've said your livelihood is not worth pausing a scheme for 10 weeks. This could destroy lives".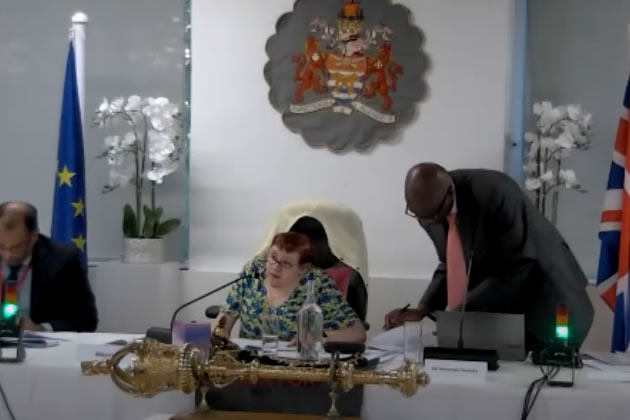 Cllr Patricia Quigley was forced to suspend the meeting for 5 minutes. Picture: YouTube
The Tory councillor claimed trade had dropped 25per cent and businesses forced to shutter since the initiative was introduced west of Wandsworth Bridge Road in February and called for emergency business rates relief.
He said, "Mayor, the row of 20 empty shops on the Wandsworth Bridge Road tells its own story. Cutting off the route from Wandsworth for a summer will be devastating."
Labour said it was not in a position to offer business rates relief and said out-of-town motorists could register for a visitor access permitwhich differs from the residents' parking permit.
They claimed 60 businesses had already signed up for the pass which they allege has resulted in 2,000 visits per month since the Clean Air Neighbourhoods project launched.
When Labour's Stephen Cowan took to the floor, he accused his counterparts across the aisle of "misrepresentation".
The council leader said, "I understand that in a pluralistic democratic society, you're going to get given lots of different information.
"Some of the information is going to be correct, and some of that is not going to be correct. Some of that is genuine misunderstanding and some of that is deliberate misrepresentation."
Cllr Cowan acknowledged businesses' concerns about the clean air scheme as Wandsworth Bridge closes for 10 weeks in July.
He said, "I can assure you that, whatever the problems are, we want to focus on the evidence of the problems and come up with solutions.
"That is a guarantee that this administration wants to do and, if you are willing to talk to our people, we are willing to throw resources at this."
He added, "We may not have got all [of the Clean Air Neighbourhoods project] right, and I can see a number of people here today don't think we have. What I am saying to you is that we will try working harder to get it right."
Deputy opposition leader Andrew Dinsmore claimed the visitor pass was a concession the scheme was not going to plan.
He said, "You've got the business visitor access permit so you must accept that the Clean Air Neighbourhood [project] has an impact on business and you therefore developed a pass for it."
Cllr Dinsmore said the RingGo app to access the passes was hard to use and resulted in motorists being fined.
He added, "The ultimate reality is that it will have a chilling effect on visitors if they think they will need to get a special visitors pass.
"If you just suspended the scheme for the period of the bridge closure, it's a very simple, very clear message that businesses will be able to send to their visitors."
Labour's Ben Coleman accused the Tories of ignoring the impact of inflation and interest rates was having on local businesses and claimed mortgages across Chelsea and Fulham had gone up an extra £12k.
He also claimed worried residents did not want to see the scheme scrapped. Cllr Coleman said, "If we're going to find a way forward on this, this can't [just] be about businesses or [just] about residents.
"We have to work together as a community and as far as residents are concerned, this is a huge success."
He added, "It would be entirely wrong for anyone in this room to ignore the issues these businesses have expressed.
"It would equally be entirely wrong to dismiss the things that residents are saying and I hope that as we move forward, we'll be able to find a solution that works for everyone and does not pit one sort of group against another group."
The Clean Air Neighbourhood project was extended to west of Wandsworth Bridge Road in February and will be in place for 18 months.
Data collected by the council claims there are 7,000 fewer cars per day using residential streets as cut-throughs in South Fulham following the first two months of the scheme being in place.
The scheme was launched in July 2020 on the east side of Wandsworth Bridge Road and made permanent in December 2021.
Since the project began, traffic has reduced by 75 per cent in the streets to the east of Wandsworth Bridge Road and by 12 per cent in Wandsworth Bridge Road, according to the website.
A Hammersmith and Fulham council spokesperson said approximately 75 per cent of fines from the council in the Clean Air zones have been cancelled.

Adrian Zorzut - Local Democracy Reporter