Borough failed to act on black mould in property for two years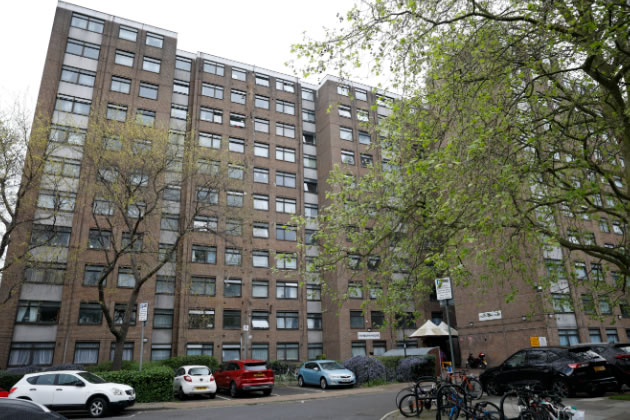 Fairburn House in Hammersmith, where Sacha lives with her three young girls in a mouldy flat. Picture: Facundo Arrizabalaga/MyLondon
May 16, 2023
A seven-year-old girl's lung 'collapsed' after Hammersmith & Fulham allegedly ignored black mould in a family's West Kensington flat for two years. The girl's mum says she is worried her other kids will be next.
Sacha – not her real name – said her three young daughters have been in and out of A&E and constantly wake up with a sore throat and chest problems.
The single mum said she's constantly anxious about her children's health and struggles to sleep at night.
She said, "When they wake up in the middle of the night, I think 'are they awake because something's wrong?' When my eldest wakes up some mornings and tells me she can't breathe, that's when I get very worried."
Sacha's council flat in Fairburn House is filled with mould and damp. When visiting the flat, the BBC's Local Democracy Reporting Service (LDRS) also experienced irritated eyes and a heavy chest.
The mould has become so bad she has moss and large mushrooms growing in her bathroom and streaks of brown mould in her kitchen and living room.
Sacha has given up cleaning and wants her landlord, Hammersmith and Fulham Council, to move her and family, or fix the mould for good.
She claims the council is well aware of the build-up in her flat and said she's been in constant contact with housing officers and contractors, who have said it is being caused by a leak two flats above.
According to residents in Fairburn House, a leak in a flat on the seventh floor has affected homes four storeys down. The tenant on the seventh floor is aware of the situation and is trying to get it dealt with, residents said.
Sacha said, "They [council contractors] came two years ago and agreed to paint it with mould paint. They told me to wait until the damp has dried or they'll say someone is out to do the job, except the problem isn't in my flat."
The woman said she noticed the damp getting worse in 2021 and claims she can tell when her neighbour has turned on the water because her storage room becomes damp and smelly.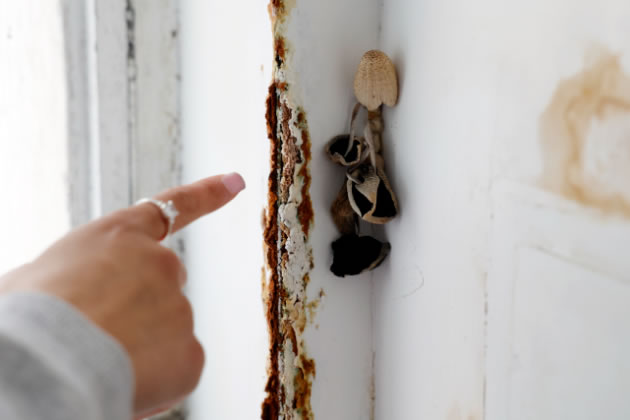 The mould in Sacha's bathroom is so bad it has mushrooms growing from it. Picture: Facundo Arrizabalaga/MyLondon
Sacha claims the mould is also impacting her own health. She has rosacea – a skin condition that causes the face to redden. Doctors told her it is caused by the damp in her flat, she claims, and alleges to be suffering from shortness of breath despite being relatively fit.
She said, "I thought it was acne for a year or so but I'm a hairdresser, I go to the gym, I take care of myself and take care of my skin. It's gone from one extreme to another and it's been hard.
"My health has gone downhill and I've lost my job because I've had to look after my daughters. I'm worried when the kids get a fever. When one of them was hospitalised, it affected me badly."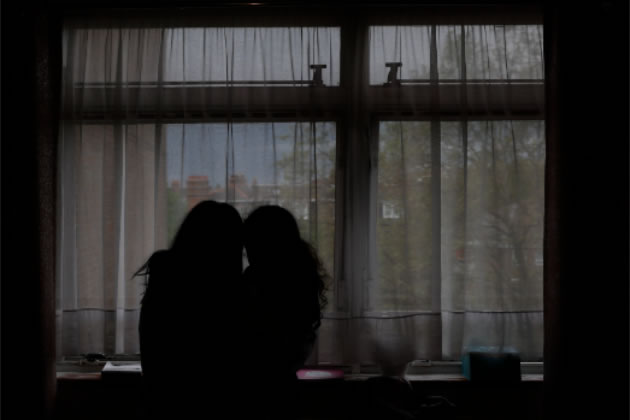 Sacha with one of her daughters. Picture: Facundo Arrizabalaga/MyLondon
She said her children suffer from a never-ending state of sore throats, eye infections and eczema. They also lose their breath easily when they play, she claimed.
Then, around two years ago, her eldest daughter, Eliana – not her real name – was rushed to hospital with pneumonia and a collapsed lung. Sacha was told Eliana would need an operation to remove fluid from the then-seven-year-old's lungs. Eliana dodged the surgery after recovering in time.
Sacha claims the doctors told her she was lucky to have brought Eliana in when she did because 'with kids it can go that way at once', she said as she clicked her fingers.
She continued: "It was the worst feeling in the world. When it's your kids, you can't hear any bad news. It was the worst time of my life."
That incident still haunts her and the kids, who she claims are constantly off school sick.
The stench of mould lingers outside their flat and is so pungent the young mum said it stays on all fabrics and clothing no matter how much laundry liquid she uses.
She said she's lost faith in the council to help her and has written to her local MP and the Housing Ombudsman.
Eliana said she can't bring friends over because they can't stand being in the flat. She also said she can't do her homework because the smell is so bad she can't concentrate.
The nine-year-old said, "I can't go to my bedroom because it smells like mould. I have to leave my door open all the time in case something happens. I can't do my homework and that gets me in trouble. It feels like I'm the only person in the school who can't do their homework."
She added, "I wake up because I have a sore throat. It feels like someone sliced by throat and little specks of rocks have fallen in and it's very hard to swallow."
She says the feeling stops the moment she's outdoors. It even haunts their dreams with Violet, seven, saying she once had a nightmare about it.
Sayed, another resident who lives in the apartment above, said he went to hospital with sepsis and pneumonia in September. He said the council knows there is damp in his flat and have told him it's due to a leak from the flat above.
Sayed has lived in the flat since 2007 and claims he has never experienced anything like this. He claims wet concrete poured down from the flat above has damaged hundreds of pounds worth of equipment and clothing in his storage cupboard.
The council apologised and reimbursed him £400, which will be taken off his housing account.
But for Sayed – who moved to the UK as a Syrian refugee in the 90s after being tortured by Bashar Al-Assad regime – the mould is having a detrimental impact on his mental health.
He said, "All this trauma and stress is giving me flashbacks to my home [in Syria] when I was in prison."
He said the leak in his storage cupboard 'was like an open tap" and two others have sprouted up across the flat, including in the bathroom.
He claims the council has not helped clean up the mould and not taken care of the leak.
Meanwhile, the tenant who lives where the leak originates claims she told the council about it months back and alleges it was down to faulty plumbing that was installed before they moved in.
The tenant claimed water leaked from their bathroom basin every time they washed their hands and their boiler overflowed whenever the shower was on. They also said they had mould growing in their bathroom.
They said council contractors offered the family a dehumidifer for the mould and promised to fix the leak on multiple occasions but failed to do so. They also expressed concerns about the health impacts the leak was having on other tenants in the block.
A Hammersmith and Fulham Council spokesperson said, "We are sorry that we have let the residents of Fairburn House down. We deeply apologise and recognise that we need to do much better as their landlord as we upgrade our housing repairs service.
"We have moved two of the families to new homes in the borough while we complete the repairs. And we have successfully fixed the leak in the other flat and will continue to work with the tenants to improve their living conditions.
"We have established a dedicated repairs taskforce, appointed a new council housing senior management team and hired additional contractors to help tackle issues more quickly and effectively in a 'right first time' approach.
"We are also investing more than £600million to radically improve our council homes over the next 12 years. It is the biggest council homes retrofit and refurbishment plan in the borough's history. This includes major investment across the West Kensington estate, starting later this year, to substantially upgrade its five blocks and neighbouring buildings."

Adrian Zorzut - Local Democracy Reporter