Local hospitals reporting rise in people needing critical care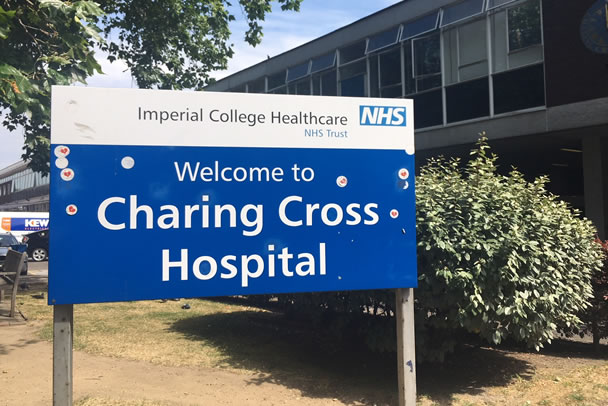 Trust that runs Charing Cross reporting increase in ICU admissions
Hospitals in the area have seen a rise in patients admitted to ICU as Covid-19 cases rise in the borough of Hammersmith & Fulham.
Imperial Hospital Trust, which looks after St Mary's, Hammersmith, Chelsea, Western Eye and Charing Cross hospitals, has seen a rise in people entering critical care with coronavirus.
As of 10 August, a total of 83 patients in the hospital had tested positive for Covid-19 and a quarter of ICU patients at the hospital are suffering from coronavirus.
The Imperial Health Trust confirmed 17 patients were in critical care with coronavirus and 15 of these patients had been placed on a ventilator.
Hammersmith Labour MP Andy Slaughter said: "Hospital and ITU cases have tripled locally since the start of June – though still way below winter levels – and infection rates are rising again.
"Up 5 per cent in the last week. None of this is good in mid-summer when there is less indoor mixing and other respiratory problems.
"The virus isn't under control yet and we still need to show caution and make sure everyone is fully vaxxed."
The borough of Hammersmith & Fulham currently has London's second highest rate of infection with an infection rate per 100,000 of 345. Hammersmith Broadway and the North End area are the worst affected with infection rates over 700.
The number of Covid cases in Hammersmith and Fulham recently matched the levels recorded in January. Among 25 to 29 year olds cases passed 1,000 per 100,000 on 8 July for the first time since 10 January and has remained high since then.
Recent data shows the number of cases for 25 to 29 year olds reached 957 per 100,00 people on 4 August.
The number of Hammersmith residents with Covid aged between 30 and 34 years old has jumped to 605 cases per 100,000 people according to the latest government data matching rates on 5 August.
So far 55 per cent of 25 to 29 year olds in Hammersmith and Fulham have received their first dose of the vaccine surpassing the number of 30 to 34 year olds who have had their first dose,
On 9 August, 48.5 per cent of 30 to 34 year olds had one dose of the vaccine in Hammersmith.
Covid rates have also begun to rise in teenage residents since the beginning of July.
The rate of cases has now reached 550 per 100,000 people in teenagers aged between 15 and 19 on 5 August, matching the number of cases Hammersmith saw at the end of December.
Similarly the number of Covid cases for children aged between 10 and 14 has passed 200 cases per 100,000 people for the first time since January.
The government confirmed it would extend its coronavirus vaccination programme to 16 and 17 year olds on 5 August after France and the USA began vaccinating younger citizens.
On hearing that the number of young people contracting coronavirus was increasing Hammersmith MP Andy Slaughter said: "It's particularly worrying that children and young adults are showing the highest rates of infection.
"Some will become ill or develop long Covid but others may transmit the disease to older relatives, even some who have received the vaccine."

Jacob Phillips - Local Democracy Reporter
August 12, 2021