Lack of permanent homes causing mental distress says charity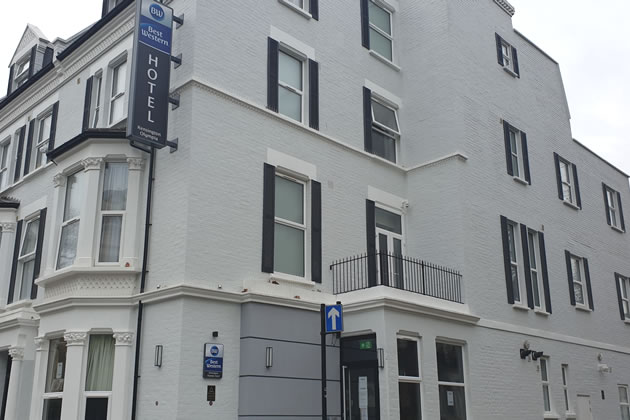 Best Western Kensington Olympia one of the hotels used to home refugees
Afghan refugees have been stuck in London hotels for months, causing mental health issues, a charity says.
Refugees who fled the Taliban months ago are experiencing "mental distress" as they wait to be given permanent homes, according to West London Welcome, a charity supporting refugees, asylum seekers and migrants.
The charity says permanent homes are urgently needed for refugees so they can properly adjust to life in the UK.
A spokesperson for the charity said, "We see people placed in long-term hotels suffer unnecessary mental distress as they don't have the ability to cook for themselves and choose their own food, they cannot put down roots in the community as they may be moved at any time.
"Not knowing how long you will be in the area also means you can't look for meaningful work and your children who just settled in school may have to start all over again.
"People have come here for safety and security and facing a long term in a hotel certainly does not offer them a chance to start their new lives in the UK.
"Governments and councils need to put out a call-out for private landlords to come forward as currently that is the only route out of hotels for Afghan evacuees."
The government is giving councils £20,520 per person over three years to help refugees resettle in the UK.
It is also providing extra funds for children's education, English language support and health care.
But local authorities say more help is needed to house hundreds of refugees who have been stuck living in hotels since they fled the Taliban in August and September.
Hammersmith and Fulham Council has given four families permanent homes in the borough and is hosting dozens in temporary housing.
The council's leader Stephen Cowan said, "We remain committed to supporting refugees.
"But we also need the government to pay its fair share for this important work.
"Countries that are compassionate towards refugees have a common feature – they're also generous towards their own citizens and have built some of the most successful and admirable societies anywhere."
A report by Westminster City Council leader Rachael Robathan says the council is housing 675 Afghan refugees in local hotels.
It adds, "The most significant risk for the council is that refugees in bridging hotels in the city present as homeless to secure another route to permanent accommodation.
"This would place significant pressure on the council's housing system and is likely to result in a sub-optimal outcome for the individuals involved…
"Officers are working with the government and the local voluntary and charity sector to manage this.
"We have also requested that government look carefully at all options which could avoid further refugees being placed in hotels in Westminster to manage the pressures being placed on council services."
A spokesperson for Kensington and Chelsea Council said long-term housing is urgently needed as there are 700 Afghan refugees living in three local hotels.
They added, "No-one should live in a hotel long-term and now that we've made good progress in meeting evacuees' immediate needs, our focus – and that of government – needs to be moving families into permanent accommodation, and gainful employment, as soon as possible.
"We are working with our local partners, other boroughs and with government to address these challenges together."
A government spokesperson said, "The government has undertaken the UK's biggest and fastest emergency evacuation in recent history helping over 15,000 people to safety.
"There is now a huge effort underway to get families into permanent homes so they can settle and rebuild their lives, and to ensure those still temporarily accommodated in hotels have access to healthcare, education, any essential items they need and employment opportunities or Universal Credit.
"The ongoing role of local authorities is vital to these efforts and we are grateful for their continued offers of support and housing but the accommodation offered must meet the needs of those being resettled."

Hannah Neary - Local Democracy Reporter

November 23, 2021