Liz Vercoe joins a rapt audience of schoolchildren enjoying the Lyric's riotous musical
Before someone utters the damning words: "Oh, it's just a load of kids," when you mention Bugsy Malone, just take a look both at Alan Parker's original 1976 mould-breaking movie and this subsequent reincarnation as a sleek stage musical and you'll discover performances and professionalism that steal the spotlight from many adults.
In case you've missed the plot of what Bugsy is all about, first head to the 'hoods and hoodlum era of 1930s New York gangsterism and the Great Depression. Two "bosses", Fat Sam and Dandy Dan, are slugging it out for control of Fat Sam's speakeasy. Bugsy Malone is a smooth little chancer loved by all of Fat Sam's dancing molls, including, dangerously, Tallulah, Fat Sam's main squeeze.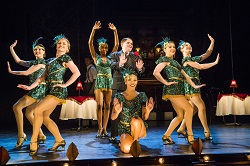 So far, so James Cagney. But then Alan Parker pulled the rug from under this particular cliché by having the leads played by pre-teens wielding spray-cream weapons and custard pies instead of guns and knives, and layered the whole show with world-class songs from Paul Williams. Suddenly it was totally child- friendly entertainment but with a good dollop of classic movie reference and memorable music to please adults too. Remember, this family friendly combination was way before Pixar came on the scene!
Wind forward 40 years with Drew McOnie's high-voltage choreography electrifying the Lyric's stage and Jon Bausor's faithful but innovative theatrical design and what you have is suddenly totally delicious. No wonder that when this version of Bugsy Malone reopened the Lyric Hammersmith after its refurbishment in 2015, it immediately garnered an Olivier Award nomination. And no wonder it's back for 12 weeks for the families and schools denied tickets last sell-out time around.
Not bad for a bunch of kids.
Most of the young leads this summer are new to this show but several of the 21 children cast as Bugsy Malone, Fat Sam, Dandy Dan, Tallulah, Fizzy, Babyface and Blousey Brown (three for each, rotating for the different performances) already have impressive professional stage and TV credits. And they are backed by an ensemble of 15 young professionals who sing, dance, contort, puppeteer and play like seasoned troupers. For me, these young adults are the secret of the success of this show. They blow you away musically in numbers such as "Bad Guys" and "Down and Out" and dazzle "In So You Want To Be A Boxer" which introduces a stage newcomer with tremendous comic timing, Marcus Sharif, as the gentle-giant protégé of would-be manager Bugsy (played by Mark Charles in the performance reviewed). They keep up the pace and the timing tight while giving the younger actors space in the spotlight.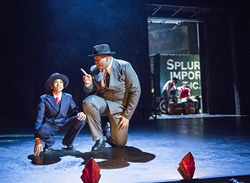 Of these Olivia Shaye Masterson's Tallulah sings and sashays with confidence while smartly avoiding becoming precocious; young Vincent Finch's Fat Sam remarkably manages to portray a world-weary middle-aged man with too much on his shoulders and Georgia Pemberton's Blousey Brown comes across as utterly sweet enough to capture Bugsy's wayward heart.
And the best evidence not only of the quality of the show but also the sheer self-discipline of the cast not to seek out a cheap laugh or scene-steal with a splatter from a splurge gun (which must be so tempting to youngsters), was an absolutely rapt audience of mostly school parties. No noise, fidgeting, wrapper rustling, phone-watching – unlike some adult West End theatre audiences these days. Whichever schools were there on Tuesday June 28, take a bow!
Yes, of course it's a happy ending. And when the entire cast return from gangland warfare and its death by a thousand desserts, and lift the entire audience to its feet for an all-singing, all-dancing, clap-along "You Give A Little Love", it works a heart-lifting, better-together magic to take back out into real life. @VercoeLiz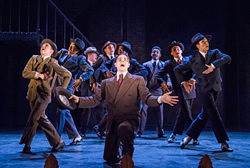 Bugsy Malone runs Tuesdays to Sundays until 4 September
For tickets, call the box office 020 8741 6850 or book online.
BSL interpreted matinee performance July 2 at 2.30pm ; audio described performance Saturday July 2 at 7.30pm; open captioned performance Saturday July 23 at 7.30pm; and a relaxed performance on Wednesday August 10 at 2.30.
July 1, 2016