Fulham Good Neighbours call for volunteer marshals at annual summer event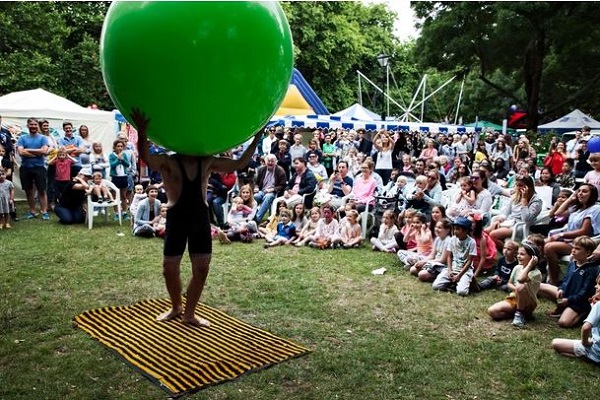 Fulham Good Neighbours are once again hosting the annual fair on Parsons Green on Saturday 6 July, and are asking local people to help make it a huge success.
The charity says they are looking for event marshals on Saturday 6 July 2019 between 7am and 11am, 10.30am and 2.30pm or 2pm and 6pm
Marshals will help by:
Assisting and reassuring visitors
Distributing event programmes
Collecting fees for some paid for activities

Picking up rubbish
Being an excellent all-rounder
Evacuating the fair in an unlikely event of an emergency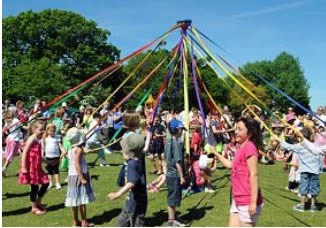 Local residents can also help to promote the fair by displaying an estate agent board marketing the event outside their home for two weeks or so prior to the fair. For each board displayed, Fulham Good Neighbours will receive £20 for their charitable work.
If you are able to help please get in touch by emailing chrismikata@fulhamgoodneighbours.org or phoning 020 7385 8850.

Parsons Green Fair is free to enter and will be open on the green from 11.30am till 5pm.
Each year the fair attracts around 8,000 visitors and this year it will have more than 100 stalls including charities, organisations, and small businesses creating awareness for their products or services. Lots of those who have already booked to take part come back year after year, which confirms the event's popularity.
The programme of events is as follows: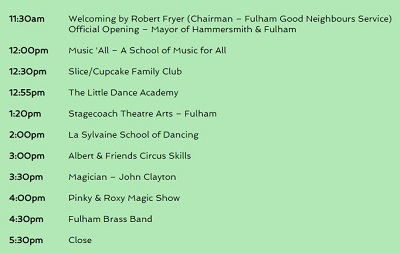 Attractions for kid include a ​bouncy castle, donkey rides, kid's circus, kiddie karts, magician, Punch & Judy Show, petting zoo, ventriloquist and face painting.
All proceeds from the fair go to Fulham Good Neighbours.
Fulham Good Neighbours, based in Rosaline Hall in Rosaline Road in Fulham also run a range of services for older people including lunch clubs, art, reading and exercise groups, and help with tasks such as gardening, DIY, decorating and shopping.
The charity is always happy to hear from new volunteers.
Find out more on their website and get up to date with their latest activities in their May newsletter.
May 3, 2019