Sands End offices will provide facilities for people working from home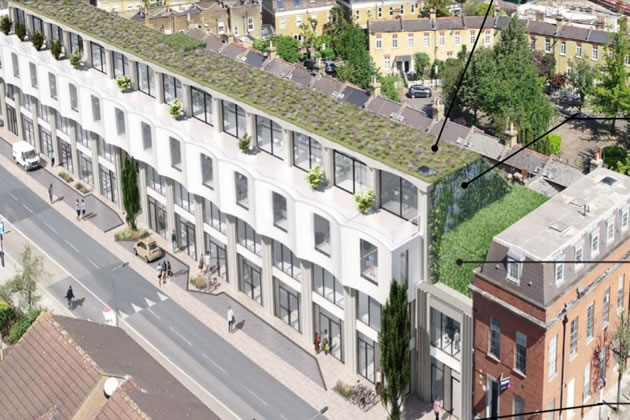 Visualisation of new offices to replace Imperial Studios. Picture: Stonehaven Ltd
Trendy new offices and a cafe will be built in Sands End targeting people who want a break from the disturbances of working from home.
Stonehaven Ltd won planning permission recently to redevelop Imperial Studios – a set of small offices originally built in the 1930s as garages.
Despite 15 objections from residents in Imperial Road and Imperial Square, the developer was given the green light by Hammersmith and Fulham Council's planning committee on 20 April.
The building will be four storeys tall and include 5,510 square metres of floor space, equal to 11 basketball courts. Its front exterior will be made of concrete and clad with white aluminium, while its roof and side walls will be coated with greenery.
Councillors voted for two additional conditions. One, proposed by councillor Alex Karmel, will prevent the landowner converting the offices into flats without planning permission, under the Government's recently introduced Permitted Development Rights.
The second condition, proposed by councillor Wesley Harcourt, will require the developer to plant new trees after felling ones along Imperial Road.
The developer's agent, Fred Drabble, told the committee the buildings had "come to the end of their economic life and need redeveloping".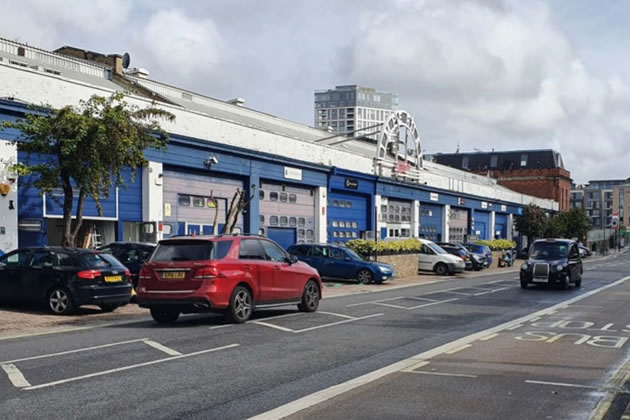 Imperial Studios in Fulham. Picture sourced from Stonehaven Ltd planning documents
He said existing businesses in the studios would be given first refusal on returning to the newly-built offices, and would receive a 20 per cent discount on rent. A fraction of the units would also be discounted by 20 per cent for start-up companies.
Mr Drabble said, "With a rise in home working due to the pandemic, local residents identified a need for a local facility where they could work and collaborate. The new building will offer co-working space bookable for low rents."

Owen Sheppard - Local Democracy Reporter
April 26, 2021