Branch at 851 Fulham Road is open longer and offers extra services
Chelsea and Fulham MP Greg Hands joined forces with Town Road councillors Greg Smith and Andrew Brown at the official opening of the new post office at 851 Fulham Road.
The ribbon cutting ceremony on September 19 celebrated the move to new refurbished premises following the closure of the old post office a few yards away at 815 Fulham Road.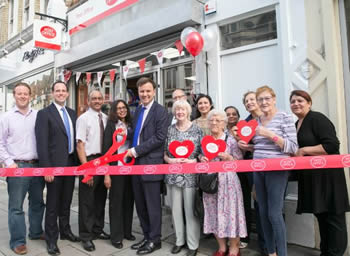 Local customers join Hammersmith and Fulham Councillors Andre Brown, Greg Smith, Assistant Postmaster, Pravin Shah, Postmistress Vina Shah and Greg Hands to cut the ribbon
As part of Post Office plans to modernise the network and extend opening hours for customers, the modernised Fulham Post Office within Samit Colour Services has three serving positions, where services are available from 9an till 5.30pm Monday to Saturday, offering customers an extra four and half hours of Post Office service every Saturday afternoon
A modern screened position, an open-plan counter and a Post Office serving point at the retail till, where many Post Office services will be available throughout shop opening hours. Customers will benefit from Car Tax renewal added to the wide range of Post Office services on offer.
New Fulham Postmaster, Vina Shah and her husband Pravin who have run the newsagents for over 35 years said: " We are delighted to be welcoming customers to our newly modernised branch. We are very pleased to be officially launching it today for the community.
" We hope our customers like their revamped Post Office and we'd like to thank Greg Hands for taking time from his busy schedule to come here today. I'd also like to thank the local community for their continued support and use of the branch."
The post office says at the new location At Fulham Post Office you can do everything from cash withdrawals from a Post Office Card Account, sending funds abroad using Moneygram, paying bills, buying holiday money, getting insurance, mortgages, savings and top up mobile phones. Car Tax renewal has also been added to to the range of services.
Greg Hands MP said: "I'm pleased to be here today to formally open the new-look Fulham Post Office and I would like to congratulate the postmaster Vina Shah on her hard work, new branch looks fantastic!
He added: "The Post Office is vital to the community in Fulham and I'm sure the improved environment, and the longer opening hours, will be warmly welcomed by the community."
September 25, 2014