Margate Sands to be revived at Bishop's Park
The first artist's impression of Fulham's proposed new beach has been released.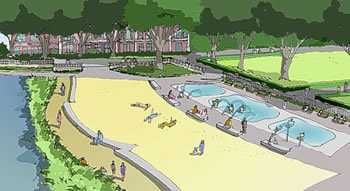 The beach, as we reported in summer, is part of a pan to rejuvenate Bishop's Park and Fulham Palace.
The project, which will cost £8 million, includes the plan to create London's only permanent beach, by the side of Bishop's Park's ornamental lakes.
Hammersmith and Fulham Council hope to receive £3.65 million from the Heritage Lottery Fund to help pay for the project.
Bishop's Park first had a beach in Edwardian times. Opened in 1903, it was dubbed Margate Sands as the sand was brought from Margate and other beaches in Kent, and proved a huge attraction for visitors. However it fell into disrepair during the Second World War and was closed in 1949.
As well as recreating the beach and restoring the ornamental lake, proposals on the agenda include:
Refurbishing the famous Fulham Palace walled garden. This would see the vinery and bothy restored to support a working walled garden.
Restoration of the picturesque historic stone bridge across the pond in the park.
Restoration of the cafe building and its surrounds.
The extension of the stableblock in the Palace grounds to support a purpose-built education facility.
The Fulham Palace moat, which was filled in 80 years ago at the request of the Bishop of London, who was resident in the palace, will also be partially excavated and refilled with water.