The Blue Boat is now open at Fulham Reach riverside development
Hammersmith & Fulham's new riverside pub, The Blue Boat has been officially opened by twice world champion and Olympic bronze medal winning rower, Sarah Winckless, on Monday March 23.
The Blue Boat is part of the new Fulham Reach development by St George and will include a large, south-facing terrace with views towards Hammersmith Bridge and Harrods Furniture Depository.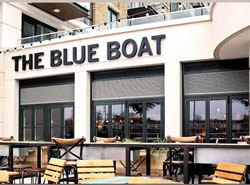 Afterwards, Sarah tweeted @Sarah_Winckless that opening the pub was a "first" and added: " Great venue by Hammersmith Bridge."
Pub company Fulller's says its menu includes premium dishes such as Vintage Ale Sticky Toffee Pudding while the bar is stocked with an exciting array of beers, including Fuller's new golden ale, Oliver's Island, alongside Frontier craft lager and the eponymous London Pride.
Leading the team is general manager and local resident Nina Dahl, who is joined by head chef Jon Pellew, coming from the White Horse in Richmond.
Nina says: " It is amazing being part of a new pub opening, it's been a busy few months and we are all looking forward to welcoming our customers through the doors. The Blue Boat is an inspiring space not just for dining but also for enjoying a drink with fantastic river views."
Jonathon Swaine, Managing Director of Fuller's Inns, adds: " The Blue Boat is a fantastic addition to our portfolio. It is set to be one of our flagship sites and I am looking forward to seeing this pub gain in popularity, especially on The Boat Race Day."
March 26, 2015